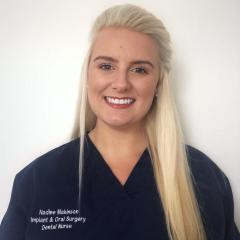 Nadine is our head dental nurse here at Jonathan Kennair Implants. She has been a dental nurse since 2013 and is very passionate about her role. Nadine's keen interest in Oral Surgery and Implantology and her understanding of the treatments Jonathan provides ensures every patient receives high quality, efficient, compassionate and personalised care.
Nadine also works as Jonathan's Treatment Coordinator assisting Jonathan with daily admin tasks, managing his busy diary and communicating with dental practices to ensure Jonathan has more time to do what he loves best-treating patients!

As well as Dental nursing, Nadine also enjoys photography in which she has completed a photography and dental photography course. In her spare time, she enjoys travelling, walking and spending quality time with her friends and family.
To contact Nadine directly please email: [email protected]